Tuolumne County Snow Removal Policy Reminders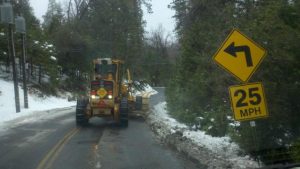 Snow Plow

View Photo
Sonora, CA — A weather system projected to arrive later this afternoon will bring lower snow levels than the weekend storm, likely dropping to around 3,000 feet elevation in elevation.
The Tuolumne County Public Works Department is putting out a timely warning about the local snow removal policies.
You can read it below:
Parking restrictions in the County right-of-way during snow removal season in accordance
with the Public Works Snow Removal Policy and the Tuolumne County Ordinance Code, Chapter
10.28
SNOW REMOVAL OPERATIONS – The Tuolumne County Public Works Department and the Sheriff's Office would like to take this opportunity to remind residents about the County's snow removal policies and procedures. The Tuolumne County Ordinance Code Chapter 10.28. "Snow Removal" prohibits parking on the pavement or road shoulder during snow removal operations. Parking restrictions in the County right-of-way during snow removal operations are strictly enforced; vehicles will be towed at the owner's expense.
If you see a neon pink notice placed on the windshield of your vehicle or the door of your residence, it is because you have items in the County road right-of-way, i.e., vehicles, basketball hoops, wood splitters, boat trailers, etc. These types of obstructions can cause multiple issues and it may result in your road not being plowed. If you rent your home, please remind your renters of the County Ordinance Code. The County will not be responsible for damage caused by snow removal equipment.
To review the full policy and ordinance code, please visit www.tuolumnecouty.ca.gov or contact the
Public Works Department at (209) 533-5601.
Important! During winter storms, please keep children and pets from playing in the road and on the
snow berms as this is very dangerous. Remember to always plan ahead, be prepared, and don't
travel unless necessary. If you must travel, be sure to carry a survival kit and chains. Lastly,
snowplows make frequent stops and backup maneuvers; do not drive your car behind a snowplow
as the driver may not see you. If you're forced, please leave extra room between your vehicle and
the snowplow.
Thank you for your cooperation, and let's have a safe winter. Please remember, we need your
assistance.