Update: Next Winter Weather Advisory Arrives Today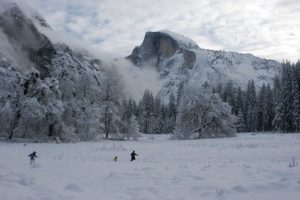 Snow in Yosemite

View Photo
The National Weather Service has issued a Winter Weather Advisory for the west slope of the Northern Sierra Nevada above 3,000 feet, from 10 AM this morning (Monday) until 4 AM Tuesday. A Winter Weather Advisory is also in effect for Yosemite National Park, from 4 PM this afternoon until 4 AM Tuesday.
The total snow accumulations are expected to range from two inches to half-a-foot above the 3,000 foot elevation. Five to ten inches of snow is likely above 6,000 feet.
Slow down and use caution while traveling. Travel could be very difficult to impossible in the upper elevations.