Flood Advisories For Tuolumne And Calaveras Counties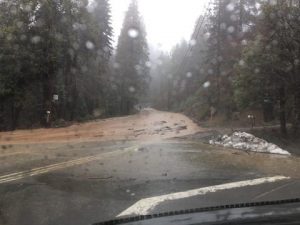 Kewin Mill Road flooding view from Comstock Ranch (file photo)

View Photo
The National Weather Service has issued a Flood Advisory for Tuolumne and Calaveras Counties, effective now until 10 PM this evening.
This is in addition to the overall regional Flood Watch that will continue until late tonight, for the Mother Lode, the west slope of the northern Sierra Nevada, the northern San Joaquin Valley, the Yosemite National Park valley floor, the lower Sierra Nevada of Mariposa County, the Mariposa County foothills and the central San Joaquin Valley.
Moderate to heavy rainfall associated with a warm atmospheric river, is keeping the snow level high and is resulting in increased potential for small stream, and river flooding across most of northern and central California.
In both Tuolumne and Calaveras counties, small stream, creek, and urban flooding is either occurring now or is expected to occur soon.
There is minor flooding in low-lying and poor drainage areas. Water over roadways. Overflowing poor drainage areas. Some low-water crossings may become impassable. Ponding of water in urban or other areas will develop this morning. Isolated mud/dirt/rockslides are possible in steep canyons.
Turn around, don`t drown when encountering flooded roads. Most flood deaths occur in vehicles. Be especially cautious at night when it is harder to recognize the dangers of flooding. Be aware of your surroundings and do not drive on flooded roads. Rock and mudslides near steeper terrain in the foothills should be expected.
A Winter Storm Warning for Yosemite National Park above 7,000 feet, remains in effect until 4 AM Sunday. And a Winter Weather Advisory for the west slope of the northern Sierra Nevada will go into effect from 10 AM this morning until 4 AM Sunday.
Heavy snow is expected above 7,000 feet. The snow levels will lower by late this morning. Most of the snow affecting roadways in the Sierra Nevada will fall this afternoon. Travel could be very difficult to impossible.
Total snow accumulations will range from eight inches to two feet, above the 7,000 foot elevation. Two to five feet snow is anticipated above 9,000 feet.
Winds could gust as high as fifty-five to sixty mph over the higher elevations. Gusty winds could bring down tree branches.
Travel could be very difficult to impossible.
If you must travel, keep an extra flashlight, food, and water in your vehicle in case of an emergency. Slow down and use caution while traveling