Update: National Weather Service Details Rainfall Projections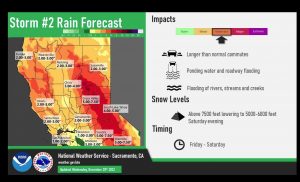 NWS Rainfall Projected Totals

View Photo
Update at 11:38am: In addition to the sand available at the four locations referenced below in Tuolumne County, there are also sandbags available in Calaveras County at the Angels Camp Police Station and the West Point Volunteer Fire Department.
Original story posted at 9:26am: Sonora, CA — The National Weather Service in Sacramento is projecting how much rainfall the region will receive when the heaviest brunt of a major storm system moves through the area Friday and into Saturday.
Many areas around Tuolumne, Calaveras and Mariposa counties are projected to receive between 5-7.5 inches of rainfall. Ponding water and roadway flooding will be a strong possibility in some areas.
To read an earlier story about the related Winter Weather Advisory, and Flood Watch, click here.
With the heavy rainfall, sand is still available in Tuolumne County for anyone concerned about flooding.
The public works department reports that you must bring your own bag and shovel. The sand is situated on four county-owned properties.
• Columbia Airport – 10723 Airport Road
• Tuolumne – 18870 Birch Street
• Jamestown – 18188 7th Avenue
• Big Oak Flat / Groveland – 11240 Wards Ferry Road