TID Closes Controlled Spillway At Don Pedro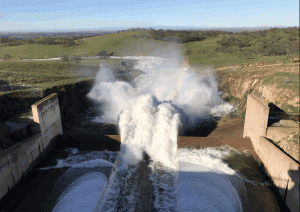 Don Pedro Reservoir's Controlled Spillway

View Photos
Don Pedro, CA — The Turlock Irrigation District (TID) closed the controlled spillway at Don Pedro Reservoir this morning, one week after it opened.
While the emergency spillway is closed, there will still be a heavy amount of water traveling along the Tuolumne River. TID Spokesperson Calvin Curtin says, "We will continue normal releases through Don Pedro Dam. Controlled spillway releases were about 16,000 cubic ft. per second throughout most of the duration of the event. Our releases now will be more in line between 10,000 to 11,000 cubic ft. per second. We're right now releasing about 10,300, but as we let the river settle into its channel, we'll ramp those back up until we can release the maximum possible without causing any impacts downstream."
TID had hoped to keep the emergency spillway open until Don Pedro dropped to an elevation of 815 ft, but the request was denied by the US Army Corps of Engineers. The reservoir's maximum elevation is 830 ft. TID had projected that it would take a couple of weeks to reduce the river down to 815 ft. at the 16,000 cubic ft. per second rate, and it will now take several additional days due to the slower release of water. The district hopes the warmer weather this week, and minimal chance of precipitation, will help the cause.
Curtin adds, "We're still asking people downstream of Don Pedro to be wary of the river. The levels can change quickly. The water is running faster than they are used to seeing it. It is certainly cold, and it has a lot of debris in it because it has been a long time since the river has been this high."
As the threat of flooding is now reduced, effective this afternoon, the Red Cross Evacuation Center at the Stanislaus County Fairgrounds in Turlock will close.