Teen Murderer Again Denied Parole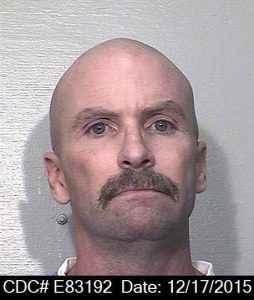 Convicted Murderer Cheyenne Knox

View Photos
Sonora, CA – Behind bars nearly 30 years now for the grisly murder of his girlfriend, 19 at the time, a former Tuolumne County teen may not ever walk free if her family and county officials can help it.
As many were enjoying happier times on Valentine's Day just about a week ago, Tuolumne County District Attorney Laura Krieg shares today that she and Yvette Stagno's immediate family members embarked on a mission of the heart after receiving a notice that the state's Board of Parole Hearings was on that day considering whether or not to release her killer, Cheyenne Knox.
Ironically enough, Knox, 17 at the time of his heinous deed, and Stagno, two years older, had been romantically involved, and while she had broken the relationship off, Krieg says the two had remained friends. However, on July 17, 1988, when Knox was supposedly going to accompany Stagno to a planned birthday celebration for her father in Santa Cruz, the pair never arrived.
Murdered In Cold Blood
Later, as Krieg grimly recounts, "It was found that Knox had blown the back of Yvette's head off on Green Springs Road [outside of Chinese Camp]." She adds that Knox subsequently drove to the Stagno family's home, entering it through a window. After taking a blanket off her own bed that he used to wrap Yvette in, he traveled to Alameda County and dumped her body into the Delta-Mendota Canal. It was not found for several weeks.
During this time, Krieg pointedly notes that Knox called the family numerous times daily, asking for her, and "ultimately leading them on a wild goose chase about where he thought she might have gone." Shortly thereafter, she says he boarded a plane for Pennsylvania to visit his father, who he had not seen since he was a small child.
After Yvette's body was recovered, investigators from the Tuolumne County Sheriff's Office traveled to Pennsylvania and questioned Knox. While he ultimately admitted to the murder, Krieg says he told officers that his dog Blackmore directed him to shoot her. He subsequently tried to plead insanity, a defense that did not hold up. Ultimately tried as an adult, Knox pled guilty prior to trial in return for a 25-year to life sentence.
Krieg shares that Yvette's family members all still live somewhat locally, in the Modesto area, and remain in close contact with her office. The Valentine's Day hearing – the fourth appearance for Knox in front of commissioners since his incarceration — lasted approximately seven hours. She confides that his plans, if released, were to settle in Santa Cruz County near family friends, as his grandparents, who lived in Tuolumne County, are deceased. She shares that his mother is also deceased and his father lives in Texas.
A Lifetime Sentence Of Pain
The DA attended the hearing at Vacaville prison's medical facility where Knox is being held, with Yvette's mother, father, older sister and younger brother. Krieg says they all remain very much impacted and affected by her violent passing.
"Yvette's mother addressed the board and gave a very…powerful impact statement…essentially told the board that this individual has given them a life sentence without their daughter," Krieg says. The DA further describes that Yvette's sister shared the pain of how her children have had to grow up — without their aunt. Too, her brother, the last family member to see Yvette alive, recounted how those moments, unknowingly his last time with his sister, were spent in an argument over her even having any kind of contact with Knox.
Along with the family, Krieg addressed the board, emphasizing that she too, strongly opposed a release, based on his continual mind set and the threat to public safety she thinks that he still poses. "He has never really given an explanation as to why he would essentially shoot Yvette at close range in the back of the head with a double-gauge shotgun with zero provocation," Krieg maintains.
"So, based on that, and based on his lack of programming, in my opinion, and also his continuing discipline history while incarcerated, I asked the board to deny his release – and, ultimately we secured a five-year denial," Krieg states with quiet satisfaction. "So in five years we will have another parole hearing — and I intend to attend that with the family, as well." Asked if Knox might ever win release, without barely skipping a beat Krieg wryly replies, "It is unlikely."