A Word To The Wise For Storm Safe Drivers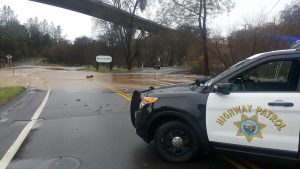 Bergel Road west of Phoenix Lake Roadb

View Photos
Sonora, CA — Soaked and slick roadways throughout the Mother Lode have traffic enforcement officials warning drivers of ways to be safe by taking extra care out there.
The CHP Sonora is reminding motorists to remain mindful that during snow, rain, or fog conditions driving with your lights on is not only the law, it helps ensure that you see other vehicles on the road — and that they can see you, too.
The Tuolumne County Sheriff's Office is also cautioning drivers while high water conditions create prime conditions for hydroplaning. If you are driving too fast along the wet roads and wind up hydroplaning, officials say to make sure NOT to turn or brake suddenly and DO firmly maintain control of the wheel. Steering straight ahead while easing your foot off the gas until your car slows down will help normal steering conditions resume. If you must brake, pump slowly as needed. Above all, they say, keep a cool head and resist the urge to panic.
Besides taking your time getting to your destination and giving other vehicles another two seconds of space, officials are also urging residents to hold off from making unnecessary trips during stormy and foggy conditions. Too, they say, with all of the flooding brought on by the heavy rains, drivers can lose control in as little as three inches of water. A rule of thumb to go by: when you see that water is covering the markings on the road, consider the conditions unsafe to drive on and turn back.