Tuolumne County School Enrollment Impacted During Pandemic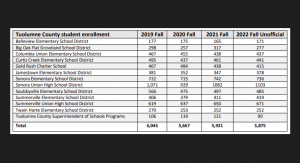 TC School Enrollment

View Photo
Sonora, CA — School enrollment fell in Tuolumne County during the early stages of the COVID pandemic, but many districts are now seeing the student numbers go back up.
The Superintendent of Schools Office reports that total enrollment at all of the Tuolumne County public schools in the Fall of 2019 was 6,045. It dropped to 5,667 at the start of 2020, went back up to 5,921 in Fall of 2021, and the unofficial early numbers this year are 5,875.
An official count for 2022 will be taken on October 1st, which is referred to as "census day" for schools. The reason the state waits on the official number is that there can sometimes be fluctuations during the first few weeks of classes.
While the unofficial enrollment number this year is down by 46, some schools are reporting an increase. Those who gained students from last year are Belleview, Jamestown, Sonora High, Soulsbyville, Summerville High and Summerville Elementary (see chart for more details).
Tuolumne County
Student Enrollment
2019 Fall
2020 Fall
2021 Fall
2022 Fall
Unofficial
Belleview Elementary
177
175
165
171
Big Oak Flat Groveland
298
257
317
277
Columbia Union Elementary
467
455
438
437
Curtis Creek Elementary
495
437
461
441
Gold Rush Charter
467
484
438
415
Jamestown Elementary
381
352
347
378
Sonora Elementary
722
715
742
736
Sonora Union High
1,071
929
1082
1103
Soulsbyville Elementary
566
475
497
485
Summerville Elementary
406
379
411
419
Summerville Union High
619
637
650
671
Twain Harte Elementary
270
253
252
252
T.C. Sup. School Programs
106
119
121
90
Total Student Enrollment
6,045
5,667
5,921
5,875