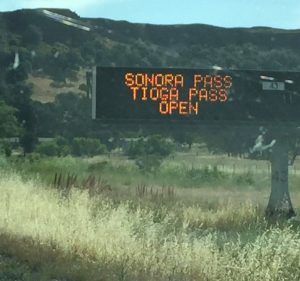 Sonora and Tioga Passes Open

View Photos
Sonora, CA – Motorists will be able to travel along all the Mountain Passes by the end of the day.
Wicked weather over the weekend brought snow to all three of the passes shutting them down. As reported here, Caltrans reopened Highway 4 Ebbetts Pass on Tuesday and Highway 108 Sonora Pass at noon today.
Caltrans spokesperson Greg Lawrence comments, "Due to the heavy snow and also some of the trees that had fallen due to that snow, it took our maintenance crews to get out there and make sure they cleared the roadway of the snow.  Also making sure there were no potential trees that may fall…just to make sure the roadway was safe to go through."
Road crews are continuing to clear the snow on Highway 120 Tioga Pass. Yosemite National Park officials have scheduled it to reopen by 5 p.m. Road crews had not yet reported back on snow totals for any of the passes.