SRMC's Joie De Vie Gala A Watershed Event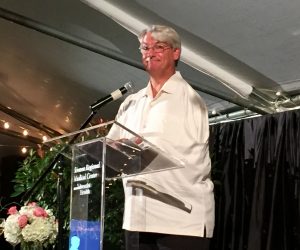 Dave Dravecky Speaks at the Joie de Vie Gala

View Photos
Murphys, CA — Sonora Regional Medical Center's Joie de Vie Gala held Sunday night at Ironstone Vineyards was a watershed event…in more ways than one.
As the evening came to a close it was first announced that a record setting $182,000 had been raised for the new Diana J. White Cancer Institute and SRMC's cancer patient support fund. It was $50,000 more than any other previous galas. Minutes later, SRMC President and CEO Andrew Jahn announced that Kevin Day, Tribal Chair of the Tuolumne Band of Me Wuk Indians, agreed to bump the number up to an even $200,000.
Due to torrential rainfall there was some flooding inside the dinner area, and a power outage which added to the festivities, but it was still very well attended, upbeat and inspirational.
Former San Francisco Giant Dave Dravecky was the keynote speaker…who fought cancer multiple times and doctors eventually had to amputate his left pitching arm.
In regards to his speech, Dravecky told Clarke Broadcasting, "Through the journey, of battling cancer, it's a message of hope. But it's also acknowledging the journey and how difficult the journey can be…and the significance of the people that come into your life to walk with you through that journey and become an encouragement to you. My message really revolves around a theme that's about our worth…because so much of our worth is defined by what we have…and then all of a sudden…when you're diagnosed with something like cancer it changes your world dramatically and it makes you step back and think a little bit more about this life that we have…and how long it's going to be…or how short it's going to be."
Dravecky spoke about the challenges he faced while battling cancer, and how his family, friends and God helped him gain a new perspective. He spoke about the importance of relationships, and transforming over time to understand, "It's not what you do, but it's who you are" as a person.
Dravecky sprinkled in stories from his playing days with the Pittsburgh Pirates, San Diego Padres and San Francisco Giants organizations.
The night also featured a special presentation in honor of Kate Powell Segerstrom who is this year's Irving J Symons recipient for her efforts to improve the community. 2016 marked the 16th year of the Joie de Vie Gala.