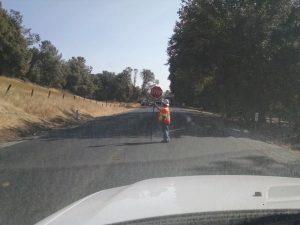 Flaggers conducting one-way traffic control

View Photos
Murphys, CA – The Calaveras County Public Works Department wants motorists to beware of some road construction that will slow traffic flow through Murphys for the next two weeks.
Crews will temporarily close Main Street from 7 a.m. to 5 p.m. between Scott and Jones streets beginning Tuesday, October 11 and running through Friday, October 21. No vehicles will be allowed on Main Street. Instead traffic will detour onto Jones Street to bypass that stretch of roadway.
County officials note motorists should use an alternative route if possible. The delays could be up to 10 minutes.