Cooper's Hawk Apartment Project Approved By Commission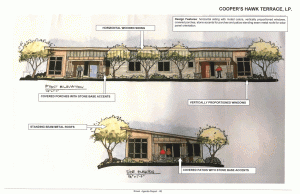 Cooper's Hawk Terrace Artist Rendering

View Photos
Sonora, CA — The Tuolumne County Planning Commission approved a plan to create more housing options near the intersection of Sylva Lane and Beckwith Road.
County Community Resources Agency Director Bev Shane reports the Cooper's Hawk Terrace Project, in the Cabezut basin area, was approved Wednesday evening. It will include nine residential structures, which will house 18 units, spread across 2.4 acres.
In regards to the Wednesday public hearing, Shane notes, "The planning commission heard from 10 people speaking in support of the project and also heard from a couple of individuals that spoke against the project. After conducting the hearing, and deliberating, the commission did approve the project by a unanimous vote."
Some of the concerns voiced by opponents were related to mixing multi-family housing with nearby single-family homes, and the belief that it could reduce nearby property values.
Wednesday night's vote is the final hurdle for the project unless the decision is appealed to the Tuolumne County Board of Supervisors.