California Controller Betty Yee Campaigns In Mother Lode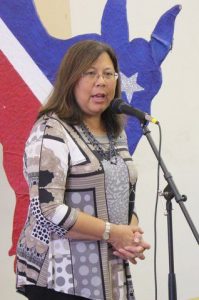 CA Controller Betty Yee Speaks In Sonora

View Photos
Sonora, CA — California's Controller, who serves as the Chief Fiscal Officer for the state, made stops in Calaveras and Tuolumne counties over the weekend.
Betty Yee spoke at a brunch Saturday morning hosted by the Calaveras County Democratic Central Committee. Tickets for the event cost those in attendance $45 and it was a fundraiser for local, state and federal candidates running for office this November.
Then on Saturday afternoon Yee was the keynote speaker at the opening of the Tuolumne County Democratic headquarters in downtown Sonora. She spoke about several of her responsibilities in Sacramento, and also why she feels this is an important Presidential election. She urged those in attendance to support Democratic candidates in both local and national races. Assembly candidate Robert Carabas, who is running against incumbent Republican Frank Bigelow, also spoke at the event.
Yee became California's Controller, a statewide elected position, in 2014. Her position is up for election again in 2018.