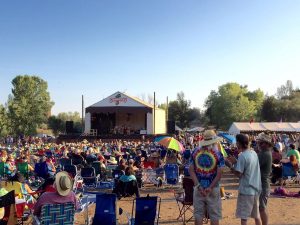 Strawberry Music Festival 2015

View Photos
Tuolumne and Arnold will both be very busy this Labor Day Weekend. Here is an overview of events this weekend.
The Strawberry Music Festival is setting up for their event this weekend at the West Park in Tuolumne. Jodi Barnett, Operations Manager and Spokesperson for the Strawberry Music Festival, was Friday's KVML "Newsmaker of the Day" you can read more here.
The Tuolumne Park and Recreation District is hosting a Strawberry Days Community Bazaar, this Labor Day Weekend at the West Side Community Park. The event is from 9am to 3pm, offering crafts, antiques and vintage items. The event listing is here.
Also in Tuolumne a Soap Box Derby will bring competitors from all over California to the 2nd Annual All-American Gold Rush Shootout. This exciting soapbox race is presented by the Silicon Valley and Northern California Soap Box Derby Associations. Trophies will be awarded in all three divisions (a welcome the return of Masters) and the "Bonanza Shootout!" will take place at the end of Sunday's race to determine the Champion of each division. More details are here.
Up in Mi Wuk it is Chief Fuller Days, with handcrafted items and food, the two day event benefits MYACT. Details are here.
There are even more events in Calaveras this weekend. The 21st Annual Logging Museum Competition is held on Saturday. Practice for beginners starts at 9am, pros start at noon. Competition includes bucking, choker setting, axe throwing, limbing, and more. There will be games for kids, great barbecue, tours, and the event is next to lake for kids. Details on the entrance fee are in the event listing.
If you want some more education, attend the Big Trees free fall seminar "What happens when our Sierra ecosystems are disturbed by agents such as fire and invasive species?" Dr. Tom Hofstra, professor of forestry and natural resources at Columbia College, will discuss the role of disturbance and succession in Sierra Nevada ecosystems. This seminar is rescheduled from last September, when it was cancelled by the Butte Fire.
Also in Arnold, the Ebbett's Pass Volunteer Fire Department sponsors the 44th Annual 'Labor Day Weekend Arts & Crafts Festival' – serving local Calaveras County brews, along with 50 booths of original art & crafts in all media – exhibited by the makers. Details are here.
There is also an Arnold Lions Pancake Breakfast both Saturday and Sunday and the Arnold Library is having a book sale.
Also over in Calaveras the newly founded Tri-County LGBT Alliance will host their inaugural Pride In The Park event. The Tri-County Alliance represents Calaveras, Amador, and Tuolumne Counties as well as Alpine Country. On Saturday from 10am to 8pm in Murphys Community Park all friends, family, community allies, and LGBT members are invited to celebrate Diversity and support connections within the Tri-County Area. The event is free for all ages and dressing in bright colors to show your support for the LGBT Community is encouraged. There will be music, guest speakers, informational booths, other LGBTQ Organizations, a photo booth, food, beer and wine. More details are here.
Between Murphys and Arnold in Forest Meadows there will be a community Garage Sale in Murphys on Saturday. The gated community will open no earlier than 8:30 am with over 40 participating residents but the sales end at 2:00pm. Beverages will be for sale at Hilltop Park, details are here.
On Sunday is the Bear Valley Triathlon, a description of the event and fees are here. Also on Sunday at the Veterans Memorial Hall & Military Museum is the monthly American Legion Sunday Breakfast.