SCC Baseline Camp Inmate Remains At Large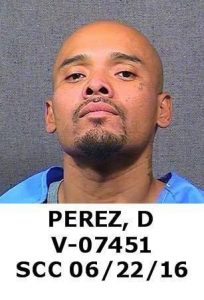 Daniel Perez, SCC photo taken 6-22-2016

View Photos
Jamestown, CA — An inmate who walked away sometime after a late-night security check is still on the lam, according to Sierra Conservation Center Baseline Camp officials.
Last seen in his dorm Sunday evening 34-year-old Daniel Perez was described by SCC officials as a minimum security inmate who, serving a 12-year sentence for burglary, was scheduled to be released in November 2019.
Providing the latest word on the incident, SCC spokesperson Lt. Fish states, "Currently we do have agents for the California Department of Corrections who are continuing to look for inmate Perez. It is not believed that he is still in the area — however the Department of Corrections will continue to work this case until this inmate has been recovered and brought back into our custody."
Certainly, Lt. Fish adds, "If anyone has any information or sees anyone resembling the inmate…they are encouraged to contact us." The number at Baseline Camp is 209 984-4464. For a closer look at Perez, click into the left image box.