Sheriff Mele Issues Public Letter Over Dallas Shooting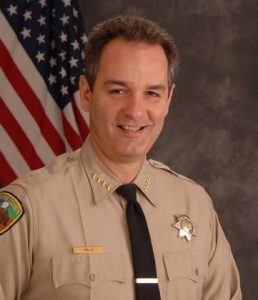 Jim Mele

View Photos
Sonora, CA — As the nation continues to reel over Thursday night's senseless shooter attack in Dallas, a local sheriff, also stunned, decided it was important to share his perspective.
Tuolumne County Sheriff Jim Mele's open letter to the community comes in the wake of flags being lowered to half-mast all over the state following a proclamation by Governor Jerry Brown, as reported here.
Earlier Friday, investigators identified the suspect, killed after a lengthy standoff, as 25-year-old Micah Xavier Johnson of Mesquite, Texas. Reportedly "upset" by recent police shootings, he told negotiators he wanted to "kill white people — especially white officers."
In the difficult days ahead, the Sheriff gratefully emphasizes that, unlike the shooter, "the overwhelming majority of the public supports and are grateful for the hard work that [members of local law enforcement] they do each and every day."
The text of Sheriff Mele's letter follows here in its entirety…
To the citizens of Tuolumne County,
Like many Americans I sat in front of my television with my family watching the events that took place in Dallas with horror and disbelief. As I sat and watched this event taking place, many emotions ran through my body from sadness and anger, to numbness. I was unable to comprehend what was taking place. As I watch the senseless killings of the men and women who have sworn an oath to protect and defend their city, I asked myself what is happening to this great county we call America.
I have spent almost 29 years in this profession and I have seen some horrific and unspeakable things. Things that I would never share with my family members let alone the general public, but I can say with certainty that what we as a Nation witnessed last night was one of most senseless acts ever.
The men and women who protect you each day know that the overwhelming majority of the public supports and are grateful for the hard work that they do each and every day. As Sheriff, I too know, understand and feel your support. With that being said these are very difficult days that are upon us as a Community and a Nation. I look into the eyes of my young Deputies and see the desire and determination to make this County a safer and better place to live.
In closing I want you all to know how proud I am of my Deputies, who serve this community every day with Professionalism and Pride. As an agency, please know how grateful we are for your support, prayer for us, and all of the Law Enforcement community. As you look at your family and loved ones and pray for their safety and protection, please find it you your heart to pray for the men and women who protect you each and every day.
Thank You,
Jim Mele
Sheriff/Coroner
Tuolumne County