State Lowers Flags To Honor Dallas Shooter's Victims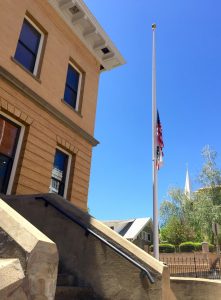 Downtown Sonora, American Flag at half-mast, honoring the victims of a shooter attack in Dallas, Texas on July 7, 2016

View Photos
Sacramento, CA — Flags on all state buildings are being lowered to half-staff in honor of the five officers killed and nine other victims injured, seven of them officers, during Thursday night's Dallas shooter attack.
The order, made by acting Governor Kevin de León, was made late Friday morning, as Governor Jerry Brown issued a statement in response to the tragedy.
The Governor shared that on behalf of all Californians, he and his wife Anne extend deepest condolences to the communities across our country impacted by violence over the past several days, including the friends and family members of the officers killed in Dallas. He also noted that their loss and sadness is also ours and as we come together to grieve, we cannot let violence tear us apart.
Early Friday, investigators identified the suspect who was killed after a lengthy standoff as 25-year-old Micah Xavier Johnson of Mesquite, Texas. Negotiators say he told them he was upset by recent police shootings, that he wanted to kill white people — especially white officers — and that he acted alone.