McClintock Calls Democrat Behavior Lawless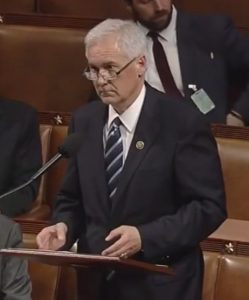 Congressman Tom McClintock
Washington D.C. — Local Congressman Tom McClintock has some strong words for Democrats who participated in a recent sit-in on the House floor June 22nd and 23rd. He calls it "replacing the rule of law with the rule of the mob." McClintock calls participants, "the lawless Left" and says "I hope the American people took a long hard look at it, and understand the threat to our democratic traditions and institutions that this conduct reveals."
Representative John Lewis of Georgia and Rep. John Larson of Connecticut were leaders among 50-60 who remained on the House floor prompting a House vote to recess early for the July 4th holiday weekend and turn off cameras. The Democrats who refused to leave during the recess used their phones to stream online to over a million individuals via Periscope and Facebook, demanding Congressional action to combat gun violence. The Associated Press reports, "It was not the first time the minority in the House commandeered the floor, but was the first time social media allowed the world to see it, giving Democrats a public relations success and a megaphone." McClintock says "serious damage was done that day to our orderly process of government and it cannot go unchallenged.  Doing so would establish a dangerous and corrosive precedent"
Pressure has built on Capitol Hill following the shootings at a gay nightclub in Orlando that killed 49 people and injured 53 others. The assailant, Omar Manteen, was on a terrorist watch list from 2013 to 2014 and legally purchased a Sig Sauer .223 caliber assault rifle and a Glock 17 in June 2016. He was killed in a shootout with police.
Congressman McClintock acknowledged the Democrats "are seeking to use the recent terrorist attacks as justification for making it harder for law-abiding Americans to defend themselves." He calls it "A strange logic" and details how Democrats continue to bring up the issue for a vote and continue to be voted down.  McClintock says "sorry, that's called "democracy." The majority of their colleagues simply disagree with them – for some very good reasons." Some Replulicans and the NRA do not support denying certain people gun ownership, a constitutional right, without at least an effective appeal process in place first.
McClintock's full remarks are in his new blog "Rules for Radicals" here.