Standard Road To Close Friday Evening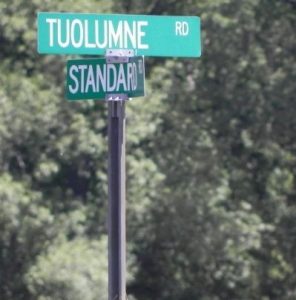 Tuolumne Road at Standard Road Signs

View Photos
Standard, CA — Due to the ongoing efforts to install a traffic signal at the Standard Road and Tuolumne Road intersection, a portion of Standard Road will close Friday evening.
The complete closure will stretch from Tuolumne Road to Camage Avenue. It will begin at 6pm Friday and continue through 6am Saturday. Nugget Blvd and Camage Avenue will serve as a detour route for motorists. Nearby Standard Park will remain open, but motorists are advised to use the detour route to access it via the northerly primary driveway. Tuolumne Road will remain open, but there could be intermittent delays up to five minutes.
The work is being overseen by George Reed Inc.