T.U.D. Endorses Review Timeline For Reservoir Project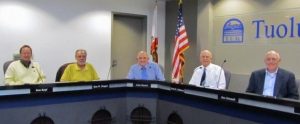 T.U.D. Board (Ron Kopf, Ron Ringen, John Maciel, Kent Johnson and Jim Grinnell)

View Photos
Sonora, CA — The TUD Board of Directors endorsed a timeline for the potential acquisition of property needed to construct a new reservoir adjacent to the district's Sierra Pines property near Twain Harte.
The proposed infrastructure project would hold somewhere between 350 to 850 acre of ft. of water. It calls for a feasibility study to begin in August, and things would wrap up in summer of 2018 with the completion of the Environmental Analysis/EIR. The money budgeted for the review process is $150,000.
Board President Jim Grinnell asked district GM Tom Haglund how much the actual acquisition will cost, and Haglund indicated that it remains unclear because it will depend on as many as three appraisals, one from PG&E, one from T.U.D. and another from an outside group.
Board member Ron Kopf then stated, "This is a project we've identified for a long time. It's off-stream storage. It's needed in the event that there's a critical ditch outage. It covers a lot of things, but we have to go through these steps to get to the point where we know whether we can acquire it or not."
The Board voted 4-0 in support of the tentative timeline.