2016 Calaveras County Grand Jury Report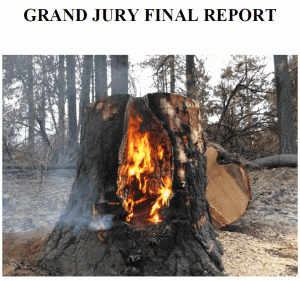 2016 Calaveras County Grand Jury Report

View Photos
San Andreas, CA — The Grand Jury in Calaveras County took aim at several groups, including Animal Control Services, the Sheriff's Department and the company that provides medical services at the jail.
The Grand Jury investigates complaints made against local government offices and makes recommendations of how to improve. You can find a link to the entire 102-page report by clicking here.
When it comes to Animal Control Services, the Grand Jury looked into various complaints regarding slow response times. It found that the agency receives an average of 100 calls per day, and there is only one office technician on staff, resulting in several calls going to voicemail and being returned later when time allows. The Grand Jury is recommending that the county hire an additional technician, and review whether the current salary for the position, starting at $27,000, is sufficient to recruit candidates.
Related to the Sheriff's Office, the Grand Jury looked into the process by which complaints against the department are handled. The Grand Jury found inconsistencies and instances where complaints went undocumented. The Grand Jury recommends that a central log be created for complaints, whether written or verbal, and follow current policies in place that requires the department to audit that information. The Grand Jury adds that during the review process there was a lack of cooperation from the Sheriff's Office, "whether intentional or un-intentional, which delayed the investigatory process significantly."
On the issue of medical services at the jail, the Grand Jury received a complaint filed by an inmate in custody. Questions were posed about the procedures followed by medical staff, particularly the practice of timely dispensing of medications. The medical services are provided by a private contractor, California Forensic Medical Group, Inc., and the Grand Jury has no inquiry powers with private contractors. The Grand Jury requested an interview with CFMG medical staff to discuss policies, but was met with resistance. The company demanded a subpoena for a supervisor to take part in a meeting with the Grand Jury. Eventually an executive did meet for an interview after the county's Public Health Department located a copy of CFMG's policies and procedures, but time ran short to conclude any type of extensive investigation, according to the Grand Jury.
Other groups investigated this time around include the Vallecito Conservation Camp, Public Works Department and others.
Again, you can read the entire 102-page report by clicking here.