SRMC Moving Forward With Cancer Center Construction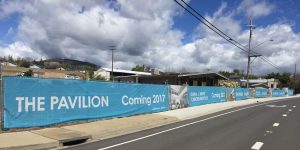 SRMC Pavilion Construction Fence

View Photos
Sonora, CA — There will soon be more activity at the site of Sonora Regional Medical Center's future Cancer Center at the intersection of Greenley Road and Mono Way.
In an interview with Clarke Broadcasting, SRMC President and CEO Andrew Jahn says the project remains on schedule to be open in the summer of 2017.
A crew has most recently been working on the demolition of the mattress center building situated next to the former Andy's Home Center. The work has included abatement of asbestos and lead paint.
Jahn says, "In the next couple of days we're going to begin the civil work for the site, and putting in the infrastructure that will support the building. And that includes things like storm drainage and utilities to the site."
That phase of the construction is expected to last 25 days. Jahn adds, "Then in mid-May we will go right into core and shell work on the building, and that's when the community will really start to see things happening on the site, and see the foundation, and footings, and steel coming out of the ground."
The new outpatient pavilion will create several new jobs, as around 200 employees will work out of the building, according to Jahn. He feels there is definitely a need for new and expanded healthcare care services, locally. "Even though our population in Tuolumne County is not growing substantially, our demand for healthcare services is growing, because we are growing older," he adds. "The fastest growing age segment of our population is 65 and older, and that's putting pressures on the healthcare delivery system to meet those needs."
Tied to the construction of the Cancer Center is the city of Sonora's plan to widen the Mono Way and Greenley Road intersection. We reported last week that negotiations are making progress and arrangements have been made to test the property for hazardous materials.
Jahn says, "I'm encouraged by the city's progress in the last few weeks on the acquisition and overall corner improvement plan. The city has still committed to having that project completed within the cancer center's timeline."
To read an earlier story on the groundbreaking held last summer for the Cancer Center, click here.