SRMC Invests In Community's Future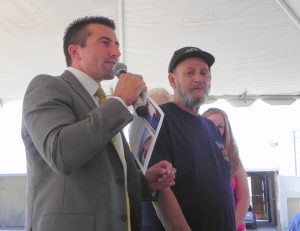 SRMC President Andrew Jahn And George White
Sonora, CA — Sonora Regional Medical Center celebrated the groundbreaking of its $36-million Cancer Center project, and also recognized some notable donors.
The 64,000 sq. ft. Pavilion will be constructed at the intersection of Mono Way and Greenley Road, at the former site of Andy's Home Center. Demolition of some of the existing buildings will start as early as next month, and the project should be completed in late 2016 or early 2017.
$29-million has been allocated by Adventist Health, which oversees 16 hospitals, including SRMC. $4-million will come from SRMC's reserve funds, and $3-million from a local capital campaign.
It was announced that the new facility will be named the "Diana J. White Cancer Institute." Groveland resident George White has informed the hospital that he is setting aside over $3-million as part of an estate donation, in tribute to his late wife Diana, who passed away four years ago. The couple moved to Tuolumne County in 1988 from Milpitas. Diana was an escrow officer and George owned and operated a janitorial business. George White was on hand at today's event, and told Clarke Broadcasting, "We were fortunate with our investments, for two old 'country people,' and we made an estate worth at least $3-million. She was the smart one, and I give all the credit to her. I think it's a good thing that Sonora Regional will get it."
He noted that neither of the two made it past the ninth grade, but Diana later went back to receive her GED, and had a very strong business sense. The $3-million donation will someday help the cancer center grow into the future, and White feels it would have made his wife happy. It ranks among the largest philanthropic gifts ever in the county.
Meanwhile, as part of the current local capital campaign, the hospital has garnered $1.8-million of the needed $3-million. Hospital officials gave special recognition to the family of Joyce and Joe Martin, as a $250,000 donation was contributed from a family fund. In addition, a $250,000 donation has come from H. Randolph and Betty Holder. It was noted that the Holders also pledged another $250,000 as an estate gift that will benefit the center in the future.
At today's ceremony, SRMC President and CEO Andrew Jahn said, "This is a really pivotal day for our community because it marks the next step forward in the future of healthcare. Not just for Sonora Regional Medical Center, but the whole foothill community, as far as access to state of the art care."
He added that there is a shared vision locally to "beat the odds, and fight cancer."
In an interview after the event, Jahn pointed out that there are a lot of possibilities to help expand cancer care, and he has been talking with leaders at hospitals in the UC system and Stanford. "They are excited about what we're doing, and the technology that we're bringing to the foothills, and they want to be a part of it. So we're looking at opportunities to explore affiliations with that level of medical center to bring access to things like clinical trials, and advanced clinical protocols. It is basically research to match the technology that we're investing in this building."
Some outpatient clinics and office space will be moved to the new Pavilion, and that will free up some space at SRMC's main campus. Included in the $36-million overall project, is a $10-million upgrade to the existing Emergency Room. The current ER is designed to care for up to 20,000 patients a year, but has been treating closer to 30,000.
Other speakers at today's ceremony at the Andy's site included Dr. Brenda Forest, Chief of the Medical Staff, Ron Stearn, City of Sonora Mayor, Evan Royce, Tuolumne County Supervisor, Wayne Ferch, Chair of SRMC's Governing Board, and H. Randolph Holder, Master of Ceremonies.
With $1.2-million still needed to fully complete the project, it was noted that community members interested in supporting the local Capital Campaign can contact the Foundation Office at 536-5029.
You can watch video of the ceremony, produced by Cole Video, by clicking on the video box in the upper left hand corner.