Negotiations Inch Forward For Intersection Expansion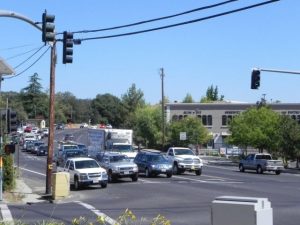 Mono Way at the Greenley Road intersection

View Photos
Sonora, CA – City officials report incremental progress this week in their quest to acquire a property that will free the way for the Mono Way-Greenley Road intersection expansion.
Plans nudged forward following more closed session negotiations within this week's City Council meeting, according to City Administrator Tim Miller, who was unable to address specifics pertaining to the purchase and timeline. Miller shares, "What I can report is that we have made arrangements with the property owner to perform the onsite testing that is needed…to determine if there are any hazardous materials there. That is a requirement before we can proceed to a formal offer. So, it has been an ongoing project for quite some time — and we have reached an understanding to do that testing — which should be started within the next couple of weeks."
The City of Sonora is the lead agency for the negotiations to acquire the Corner Gas Station property, which is located immediately adjacent to the intersection. After its purchase and any required abatement, the property will be demolished so that the busy crossroads may be widened to help accommodate the growing Sonora Regional Medical Center (SRMC) and its 64,000 square-foot Outpatient Pavilion Cancer Center. Now under construction it remains on track for completion sometime in the summer of 2017.