Update: Abernathy Wins Superintendent Of Schools Race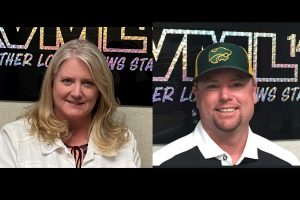 Cathey Parker and Zach Abernathy

View Photo
(The story has been updated below with statements from both Abernathy and Parker)
Original story posted at 12:34pm: Sonora, CA — A little over a week after Election Day, Tuolumne County's Clerk and Auditor-Controller confirms that Zach Abernathy has defeated incumbent Cathy Parker in the Superintendent of Schools race.
Debi Bautista says all of the ballots received up until noon today have been tabulated. There are still some that were submitted which do not have signatures, but it is only a handful. Those people have been notified and have until Monday to submit those signatures.
Bautista says, "Zach Abernathy is 103 votes ahead of Cathy Parker. There is not going to be 103 signatures coming in over the next couple of days, so that race is done."
Bautista has also declared Andy Merrill and Suzanne Cruz as the winners of the two Sonora City Council seats. Cruz has 55 more votes than third-place finisher Kurt Bryant.
As for what is next, a state-required 1-percent manual recount will occur next week. After that, Bautista says she will certify the results, and "put this election to bed."
All the Primary Election Results can be viewed on our elections results page here.
Update at 1:30pm: In response to the latest election results referenced in the story above, Cathy Parker has put out a statement thanking supporters and conceding the election.
Parker states, "It has been an honor and privilege to serve as the Tuolumne County Superintendent of Schools over the past four years. While it is true that I was not re-elected to the position, we should not feel this is a defeat. We made an effort, we involved and listened to people, and we gained respect for our effort. Thank you to everybody who volunteered, donated, canvassed and worked to make this campaign one you could be proud of. As I finish my term of office in January 2023, I will endeavor to make sure the work to represent all students continues."
Update at 3:50pm: The winner of the Tuolumne County Superintendent of Schools race, Zack Abernathy, has released a statement. You can find it below:
"I am both humbled and honored to see the confidence that this community has placed in me. I feel blessed as I begin this new journey of my life. I do recognize that this is a very close election that could have gone either way, and I eagerly look forward to working with all stakeholders and focusing on common ground. It is important to ensure that the youth of Tuolumne County is everyone's top priority. I would like to thank Cathy Parker for her years of service as an educator, as well as fulfilling her civic duty as an elected official. She has many achievements that she should be proud of. I want to thank every Tuolumne County resident who participated in this election, as we can see every ballot does matter. I would like to thank my family and friends for their unending love and support. I thank God every day for the life I get to live and the amazing people in it. This process has been filled with hills and valleys, life is full of challenges but I welcome them, and am ready to take this next step. This county is a very special place for our kids to grow up and I'll do everything in my power to address the needs of our current generation as well as continuing to lay the groundwork for future generations. Thank you once again for believing in me. I look forward to hearing from many of you in the months to come. As a community we can make Tuolumne County Education the best it can be."