Increasing Interest In Sonora City Council And Supervisors Races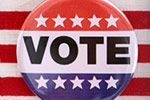 elections

View Photos
Sonora, CA — With an approaching filing deadline this Friday, more candidates are lining up to run for local office.
Several individuals are at various stages of process, which includes taking out papers to collect signatures, making a declaration of candidacy and filing the nomination papers.
Five candidates have now expressed a desire to fill one of three open Sonora City Council seats. They include incumbents Connie Williams and Bill Canning, former councilman Matt Hawkins, business owner Mark Plummer and Attorney David Axelrod. The other incumbent, Ron Stearn, has indicated that he will not seek re-election.
In the race for District One Tuolumne County Supervisor (Sonora area), incumbent Sherri Brennan is seeking re-election. Other candidates that are planning to run include Jerry Fuccillo and Chuck Kiel.
In the District Four race, which notably covers the south county region, incumbent John Gray is seeking re-election. One additional candidate, Don Matter, has taken out nomination papers.
In the District Five race (Columbia and Jamestown), incumbent Karl Rodefer is running for re-election. The only other candidate that is currently planning a run is Sara Shier.
In the Calaveras County Board of Supervisor District One race there are four potential candidates at this time, incumbent Cliff Edson, former supervisor Gary Tofanelli, Kurt Boese and Sharon Romano. In District Two, where incumbent Chris Wright is not seeking re-election, the potential candidates are Jack Garamendi Jr. and Sean White. In the District Four race, where incumbent Debbie Ponte is declining to seek re-election, candidates to express interest are Dennis Mills, Ann Radford and Sherri Smith.
Friday is the deadline to file the needed papers to run for election. However, in races where an incumbent is not running, the deadline is extended to March 16.