Feds, State Collaborate To Collectively Wield Fire As A Tool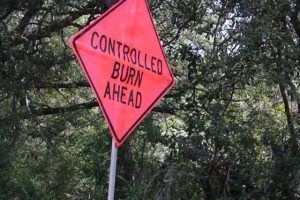 Monitored fire

View Photos
Sacramento, CA – Federal and state fire and conservation agency officials are forging a collaborative fire management plan that will make broad use of prescribed burns.
On Tuesday, at the onset of an inter-agency workshop focused on crafting a memo of understanding (MOU), several officials spoke with great enthusiasm via teleconference about what they describe as a historic and unique partnership for "the good of the landscape" in California.
Citing over a century of wildland fuels across private and public lands that continues to build up and wildfires that are gaining in size and intensity due to the state's extended drought, representatives from the initial partner agencies stated plans for a cooperative, expanded response, using a broader range of tools to restore forest resilience and protect communities across rural lands. Intentions are to grow the group to include others interested in supporting the increased use of fire for public and natural resource benefit.
Calling it "a good day," Forest Service Regional Forester for the Pacific Southwest Region Randy Moore pointed out, "One of the uses of this MOU is to document the cooperation between the parties to increase the use of fire for ecological and other management objectives — it is really about using the right fire, the right place, the right time." He noted that the MOU uses Forest Service National Cohesive Strategy and CAL FIRE California Fire Plan among its tenets.
Within the move-forward agreement, Moore added, the agencies would incorporate an approach that includes stakeholder engagement; reducing barriers to improve fire and smoke management; and coordinating public education and outreach."We are committed to working together in a collaborative matter, not only with just the other federal partners, but also our state partners, fire councils as well as the conservation communities. This is really about more than prescribed fires…since we know that fire has no boundaries, this has to be an all hands approach," Moore stated.
Raging Wildfires Due, In Part, To Absence Of Prescribed Burns
Our watersheds…forests and wildland landscapes do not know jurisdictional boundaries and are made of both public and private lands throughout the state," concurred CAL FIRE Director and California State Forester Chief Ken Pimlott, who also noted that CAL FIRE is charged with protecting 31 million acres across a variety of ecosystems. While the recent unprecedented, super-charged wildfires seen in California are the direct result of the extended drought and related tree mortality issues, Pimlott highlighted the inability to effectively bring prescribed fire back to the landscape as another primary contributor.
For CAL FIRE, Pimlott stated, the new MOU will be a way to work within broad partnership to reduce the intensity of fires, as they occur, as well as mimic a more natural fire regime for ecological restoration. "We are working together very closely with the Board of Forestry and Fire Protection under the direction of the Governor…amending the State Fire Plan to incorporate the increased use of prescribed fire…but again doing it in a way that is collaborative, because none of us can do this by ourselves," Pimlott explained.
Acknowledging the importance as well as the difficulty and unpredictability of implementing fire as a tool, Nick Goulette, head of the Northern California Prescribed Fire Council stated that the coming together will allow the council to build a professional, skilled workforce and provide effective public outreach.
Representing a coalition of 80 conservation agencies that work on state land management issues, Craig Thomas, conservation director of Sierra Forest Legacy added, "Major wildfire events are what make the headlines, but…underneath that is fire exclusion across this landscape for over a century…getting fire back in the landscape will help get to the root cause of why some of these fires are burning the way they have been burning in the recent past." He credits the new partnership with being able to benefit public health and safety by helping stabilize carbon and reduce emissions while increasing forest resilience.