Straw To Protect Against Butte Fire Erosion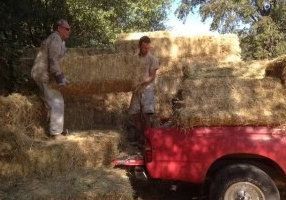 Volunteers Spreading Straw in Butte Fire burn scar

View Photos
Calaveras County, CA — Volunteers are covering the Butte Fire burn scar high-risk erosion areas with special straw in hopes it will enable the land to spring back to life.
This past November, the Calaveras County Water District (CCWD) Board of Directors voted unanimously to donate $5,000 to CalaverasGROWN, a countywide cooperative marketing program to help farmers market their goods. With the funds, the group bought weed-free rice straw. Volunteers have spent over 3,000 hours spreading approximately 22,000 bales of straw over more than 500 acres. Additionally the crews have chopped down charred trees and fixed damaged wells. Last month, more than 40 people lent a hand to lay the straw but more volunteers are needed. As CCWD spokesperson Joel Metzger notes, "The burn scar area is so massive even if you had an army you couldn't cover it all."
The straw is not only good for landowners but also great for the watershed, according to Metzger, who explains, "When the rains come and wash all this soil, ash and organics down, all of that chokes the water, eventually ends up in New Hogan Reservoir…We treat that and service about ten-thousand people. So, anything we can do to help protect the watershed is a high priority for the board."
As witnessed by the board's unanimous vote last December to put up $939,500 in matching funds to secure a $2.8 million grant from the Federal Emergency Management Agency (FEMA) to build a pretreatment facility at the Jenny Lind Water Treatment Plant as the erosion is also hurting the bottom line. "It's definitely pushing up our chemical costs right now," says Metzger. "We have so much sediment in the water that we have to flush the plant much more often than we normally would." He adds that this is not just a one-year problem as scientist have pointed to the slow decomposing of roots in the burn scar still holding the soil in place, which could create a lingering problem.
The estimated cost of the pretreatment facility project is $3.75 million. The planning process is already underway, according to Metzger, who indicates, "We are fast-tracking that project and hope to have it completed by the end of this year.  So, by the next rainy season, we will have one more line of defense between our treatment plant and this water that has been so compromised by the Butte Fire."
Work parties are set up twice a week to help with spreading the straw. If you would like to volunteer or donate money for the purchasing of additional straw, you can email info@calaverasgrown.org, call (209) 498-8081.