Class Action Status For Fire Fee Lawsuit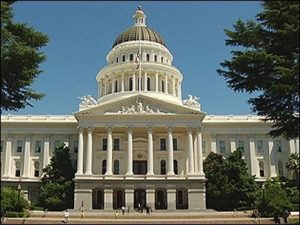 California Statehouse

View Photos
Sacramento, CA — A ruling this week from a Sacramento Superior court judge allows citizens to either join in or opt out of the $150 fire fee lawsuit. However, no determination on whether the fee is a tax, as critics claim, was made.
Howard Jarvis Taxpayers Association Legal Secretary Lorice Strem states that this is just one of several legal hoops that need to be jumped, explaining, "The hoop we had to get through was to get the courts approval on how we propose to notify people that they are in our class action. That is important because once we notify people there is a period of time where people can opt out or decide that they don't want to be part of our lawsuit. If we don't do that, we cannot move forward on our lawsuit. Also, nothing was decided on the merits of the case."
As previously reported, the fee passed by a simple majority vote of the Legislature in 2011. It charges residential property owners in rural areas $150 for each habitable structure located on their land. Property owners who pay for local fire protection will receive a $35 reduction. Strem says those that want to join the lawsuit must meet these criteria, stating, "People who have filed a petition for redetermination protesting the fire fee and have paid the fire fee, because the court does not allow us to represent people who have not paid and protested." She adds that those that fit that description do not need to do anything to qualify for the lawsuit.
As the fire fee bills go out intermittently throughout the year to more than 825,000 property owners, it is not too late to file a protest and join the lawsuit. All is required is that the owner file within 30 days of the billing date, according to Strem.
Mother Lode Senator Tom Berryhill has been a vocal opponent of the fire fee. He cheers that the courts finally deliver some good news indicating that this could be the beginning of the end of the fire fee. "I have always thought this was an illegal tax and an atrocious overreach on the part of the state to squeeze additional money out of taxpayers in rural areas," comments Berryhill.
To view the Jarvis Taxpayers' page with additional lawsuit information, click here.