Designating Rolling Over The Forest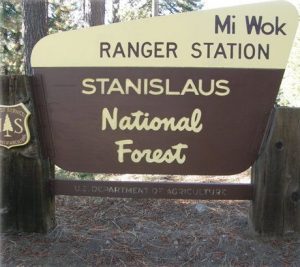 Mi-Wok Ranger Station - Stanislaus National Forest

View Photos
Sonora, CA — The public can play a role in designating the use of over-snow vehicles (OSV), which includes snowmobiles, in the Stanislaus National Forest.
Forest Service officials are planning two workshops regarding the draft proposed action for Over-Snow Vehicle Use Designation, where public feedback is needed. The first is set for Jan. 25 from 4 to 6 p.m. at the Best Western Plus Conference Center on Hess Avenue in East Sonora. The second meeting is set for Feb. 18 at the same location with the time still to be determined. Forest spokesperson Rebecca Garcia urges people to come out, stating, "There are concerns between the motorized recreationists, quiet recreationists and those who just have an avid interest in preserving natural resources. So, now is really the time to come on out and make sure that we've heard the concerns and if there is a way that we can come to an agreement."
As previously reported, the draft deals with more than 54 miles of designated OSV trails. Forest officials ask that those who attend the workshops to review the draft (click here) and contemplate the following questions:
Have we missed any major areas or routes that historically have been used by snowmobiles? If so, where and how are they being used?
Is the DRAFT Proposed Action clearly stated and mapped?  If not, how can it be improved?
For any questions or comments, please contact Phyllis Ashmead, project coordinator at 209-532-3671 ext. 322 or email at pashmead@fs.fed.us.