Have A Property Burn Plan?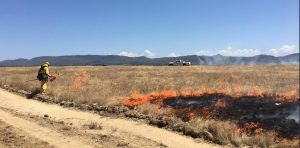 CAL FIre TCU crews working the Spring Valley prescribed burn in Calaveras County

View Photo
Sonora, CA – As the drought continues, private property owners need to have a burn plan – a prescribed fire on private lands workshop can help in developing that.
The Motherlode Prescribed Burn Association, working with Columbia College, the Tuolumne and Calaveras Resource Conservation Districts, and the University of California Cooperative Extension, will be hosting a two-day workshop on April 22nd and 23rd, from 9 a.m – 4 p.m. each day. The goal is to give landowners and land managers skills in prescribed fire planning and implementation.
The first day of the workshop will include a tour of burn units at Columbia College, a review of different tools, equipment, and personal protective equipment, and participation in a burn if the weather allows. Organizers recommend participants bring maps and other property information to develop a customized burn plan. Experts will be on hand to help landowners develop their project descriptions, maps, and permitting and understand liability. Day two of the workshop will be held at a landowner's property and will include burning preparation, planning, and burning if the weather allows.
The registration deadline for the workshop is April 19, click here to apply. The cost is $20, which will cover lunch and materials. After registering, organizers say property owners will be provided with further instructions on the workshop and the agenda of presentations.
The association provided this schedule for the workshops:
April 22nd, 9-4 Columbia College, Sonora
April 23rd, 9-4 Location TBD (but nearby)
For more information, contact Susie Kocher at sdkocher@ucanr.edu.