Bromley Stone Will Go On Display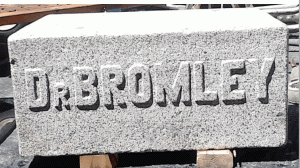 Bromley Stone

View Photos
Sonora, CA — The Tuolumne County Supervisors approved an agreement today paving the way for the return of the historic "Bromley Stone" in downtown Sonora.
The county accepted the stone as a gift in December of last year, from family members of Dr. Innis Bromley.  The stone was previously used as a step for passengers to board street carriages in front of Dr. Bromley's longtime residence on South Washington Street.  He was a prominent physician in the early 1900's, and his home was where Yosemite Title now sits.  The company has agreed to temporarily take possession of the stone, from the county, and place it for view along the front sidewalk area. Dr. Bromley also built a two-story hospital called the Bromley Sanitarium, which later became known as Sonora Hospital. It was situated at the current Yosemite Title parking lot.
The long-term plan is for the stone to eventually be incorporated as part of the Vision Sonora Project, being overseen by the City of Sonora. No money will change hands as part of the temporary loan agreement with Yosemite Title approved today by the Supervisors.