GOP: Democrats Are Blocking Support For Our Troops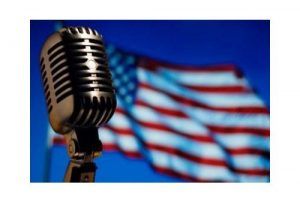 Microphone and US Flag

View Photos
In this week's Republican address, Rep. Will Hurd of Texas discussed Republicans' efforts to provide U.S. troops and intelligence professionals with the support they need to carry out their vital missions.
Hurd was Tuesday's KVML "Newsmaker of the Day". Here are his words:
"Hello, I'm Will Hurd, and I'm proud to represent the 23rd District of Texas in Congress.
Of course, we're fortunate to live here in the United State of America, a country where you can work hard and be anything you want to be.  Growing up in San Antonio, my parents – Mary Alice and Bob – instilled that lesson in me at an early age, along with the values of honesty and service to a greater good.
Before the people of Texas sent me to Congress, I spent nearly a decade as an undercover case officer in the CIA.  I witnessed folks struggling for freedom overseas.  And I saw firsthand why we can never take our liberty for granted.
Today we face enemies around the world that are more determined than ever.  They have no intention of giving up their pursuit of nuclear weapons, or the violence, fear, and hate they use to cling to power.  Our principles of life, liberty and the pursuit of happiness — they represent everything our enemies want to destroy.
Let's recommit ourselves to supporting our troops, supporting our intelligence professionals, and winning this fight.
Already this year in the U.S. House of Representatives, we've passed measures to provide new mental health resources to our veterans and bolster cybersecurity while protecting privacy.  And last month we passed a strong national defense bill that meets the president's funding requests and authorizes a much-deserved pay raise for our troops.
Sadly, some members of the president's party are trying to block this critical measure.  They think that by playing political games, they can extract more funding for unrelated federal agencies like the IRS and the EPA.  I hope they'll reconsider because too much is at stake right now to let our differences get in the way of our work to protect freedom.  America's men and women who serve our country make up the greatest force for good this world has ever known.  They deserve our unwavering support on Independence Day and every other day.
Thank you for listening, and God bless the United States of America."
The "Newsmaker of the Day" is heard every weekday morning on AM 1450 KVML at 6:45, 7:45 and 8:45 a.m.