Winding Down Washington Fire Response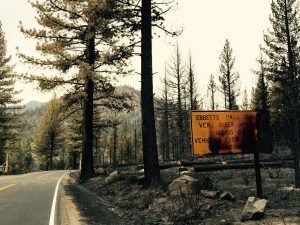 Ebbetts Pass Sign Burned In Washington Fire

View Photos
Alpine County, CA — 490 firefighters are on scene this morning of the Washington Fire in Alpine County, as opposed to 1,100 earlier this week.
Rainfall has helped extinguish the fire over the past couple of days. The fire is now 17,790 acres and 90% contained. It was ignited by a lightning strike on June 19th. The total cost to fight the fire is up to $11.5-million. While mop-up continues, crews have been also working to rehabilitate some of the fire lines and equipment staging areas.
Highway 4 Ebbetts Pass and Highway 89 Monitor Pass are open. The Type 2 incident Command team will hand over the operations to a smaller regional team tomorrow. The evacuation advisories have been lifted for Markleeville. The fire stayed about 3 miles away from the community.