GOP: Let's Pass The National Defense Authorization Bill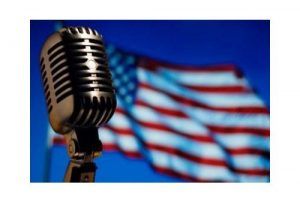 Microphone and US Flag

View Photos
In this week's Republican address, Sen. Roy Blunt encourages the passing of bipartisan legislation as well as the importance of a bill that will provide funding for troops and their families.
Blunt was Tuesday's KVML "Newsmaker of the Day". Here are his words:
"Hi, I'm Senator Roy Blunt from Missouri.
Right now, the Senate's debating the National Defense Authorization bill, and will soon take up the bill that will fund our defense priorities.
And when we think about priorities, the number one priority for the federal government is to defend the country and that debate deserves the complete attention of the Congress.
The leader of Senate Democrats recently said debating the defense bill is a 'waste of time.'
Providing for America's active-duty military service members and the security of our nation is never a 'waste of time.'
And the president threatened to veto the defense bill unless Congress provides more funding for all sorts of other agencies, like the IRS and the EPA.
We can spend all the time we want talking about other priorities and all the other things we should be doing, but almost every American and an overwhelming number of Missourians, agree with me: the most important role of the federal government is to do the one thing we sure can't do by ourselves – defend our country.
In this debate, we are looking for ways to focus our resources on where the defenders are.
In other words, the bill redirects defense resources to our nation's fighting forces – not more bureaucrats at the Pentagon.
As a member of the Senate Appropriations Subcommittee on Defense, I understand the importance of eliminating wasteful spending, reducing bureaucracy, streamlining critical military functions, and supporting those who serve – including military families.
The defense bill identifies 10 billion dollars in excessive and unnecessary spending and reallocates those funds to military capabilities.
It also modernizes the military retirement system, creating retirement accounts and matching savings that 75% of service members are likely to benefit from.
The current retirement program, which benefits fewer than one in five service members, will remain in place for current service members, unless they opt in to the new system.
The defense bill creates retention bonuses for service members who want to make a career out of serving our nation including those who want to serve more than 20 years.
Our plan reforms defense acquisition by clarifying senior officials' roles, streamlining decision-making, and promoting accountability by establishing binding performance standards.
It maintains critical quality of life programs for the men and women of our armed services and their families and addresses the needs of our wounded, ill, and injured service members.
It takes new steps in treating mental health like all other health.
It continues critical assistance to Israel and in the process strengthens Israel's missile defense systems and encourages co-production programs that boost our domestic defense industry.
As we have learned, the David's Sling and Iron Dome defensive weapon systems are critical not only to Israel's security, but also to international security.
Finally, the bill goes a long way to combat the growing threats in cyberspace by evaluating vulnerabilities and directing upgrades sooner rather than later.
We live in a challenging time where threats are numerous and the landscape is continually changing.  It is a moral imperative to provide for our national defense and for the service members, veterans, and their families that protect and secure our freedoms.
When we pass the defense bill, for the 54th year in a row, we will then move to the defense spending bill.  Together, both will ensure the brave men and women of our armed forces have the resources and programs they need to defend our nation.
America's service members and their families make tremendous sacrifices every day to protect our freedoms.
With our country facing increased threats at home and abroad, providing for our nation's defense is never a 'waste of time.'"
The "Newsmaker of the Day" is heard every weekday morning on AM 1450 KVML at 6:45, 7:45 and 8:45 AM.