Denham Trying To End Funding For High Speed Rail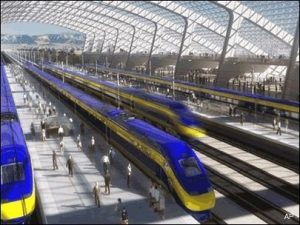 HSR

View Photos
Washington, DC — The U.S. House of Representatives passed an amendment to a transportation bill that would end a grant agreement between the Federal Railroad Administration and the California High Speed Rail Authority.
It was pushed by Central Valley Republican Jeff Denham. His office reports that it would specifically prohibit any appropriated funds from being used for high speed rail in the state, and nullify an agreement to provide some matching grant funds. It could derail plans for the train, and would result in the High Speed Rail Authority needing to find $2.3 billion this year to continue the project.
Denham claims, "The project is several decades behind schedule, nearly $70-billion over budget, and will not meet the speeds, travel times or ridership levels promised to voters."
The amendment would also need to be passed by the Senate, where lawmakers like California's Dianne Feinstein have spoken in opposition of ending funding.