Emergency Water Regulation Draft Released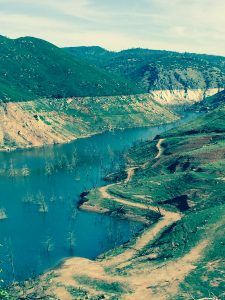 New Melones on 3-28-15

View Photos
Sacramento, CA — The State Water Resources Control Board has offered a new draft plan for mandatory water reductions to bring the state's water use down by a third. State water officials report this savings amounts to approximately 1.3 million acre-feet of water over the next nine months, or nearly as much water as is currently in Lake Oroville.
On Saturday, state water regulators released the proposed nine tiered water conservation plan for state urban water suppliers. It requires some cities, like Oakdale, to conserve up to the highest amount, which is 36 percent, while reducing conservation targets for others, like the San Francisco Public Utilities Commission to 8 percent.  Tier 1 is the lowest conservation standard at 4 percent, which currently is not assigned to any suppliers.   An earlier board proposal garnered 250 comments drawing sharp criticism for being unfair and unrealistic.
The targets are based on per-capita water use since last June. Here is the breakdown of the Board's possible water conservation percentages targeted for the Mother Lode. Tuolumne Utilities District's (T.U.D) conservation standard is set at 24%, which is lower than the District's average 31% water savings. Calaveras County Water District's (CCWD) is 32%, a hike from an 18% average.  The Groveland Community Services District's (GCSD) has been set at 24%, a goal it has already been achieving.  The revised draft plan cuts water reduction goals for major cities including Los Angeles and San Diego as can be seen by clicking on this chart (draft_usage_tiers).
Here is the timeline for putting an emergency regulation in place. The Board will once again ask for comments on the draft, which can be viewed here (draft_emergency_regs).  All comments must be submitted by April 22.  Based on those received, the informal plan could be revised, and then on April 28 the Notice of Proposed Emergency Rulemaking will be released for public comment and consideration by the Board at its May 5-6 meeting.
The water conservation plan comes in response to Gov. Jerry Brown's executive order mandating a 25 percent cutback in urban water use. Agencies that do not take steps to conserve or reduce water use could face fines of up to $10,000 a day.