Burn Permits Needed Next Month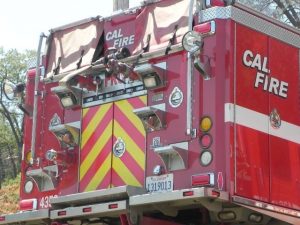 Cal Fire Truck

View Photos
San Andreas, CA – Starting Friday, May 1, residents in Tuolumne and Calaveras counties will need to have a permit to burn. Additionally, burning can only be done between the hours of 7 p.m. and 8 a.m.
Cal Fire spokesperson Lisa Williams says, "We're just reminding everybody that if they have permits to check the expiration dates, and if they are expired, to make sure you do stop by your local Cal Fire facility to renew them, to make sure you have current permits."
Additionally, burn piles are required to be no larger than four-feet by four-feet with a ten-foot ring of dirt around them. Another reminder: burning can only be done on permissive burn days; that information can be found on the myMotherlode.com home page and is updated daily. Williams cautions to never leave a burning pile unattended or burn when it is windy, even if it is listed as a permissible burn day.
Here is Cal Fire's list of stations where permits are issued
CAL FIRE Headquarters, 785 Mountain Ranch Road, San Andreas 

(closed from noon to 1 p.m.)

Altaville FFS, 125 North Main St, Altaville
Arnold FFS, 2517 Highway 4, Arnold
West Point FFS, 22670 Highway 26, West Point
Twain Harte FFS, 22978 Meadow Drive, Twain Harte
Station 51, 1950 Hillsdale Drive, Mono Village, Sonora
Blanchard FFS, 2990 Highway 132, La Grange
Groveland FFS, 11700 Merrell Rd, Groveland
Groveland CSD, 18930 Highway 120, Groveland
Ebbetts Pass FPD, 1037 Blagen Road, Arnold
Ebbetts Pass FPD Station 3, 40 Canyon View Drive, Hathaway Pines