Brown Defends Farms' Water Use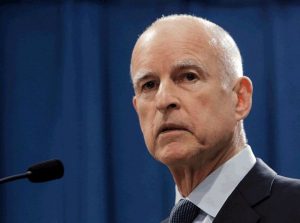 Jerry Brown

View Photos
(ABC News) – After taking the unprecedented step of ordering mandatory water-use reductions throughout his state, California Gov. Jerry Brown defended his executive order's treatment of the state's agriculture industry and its use of water in an interview with ABC's "This Week."
Brown was Wednesday's KVML "Newsmaker of the Day".
Brown said California's farms are "providing most of the fruits and vegetables of America," as well as jobs for the state's most vulnerable residents. Though agriculture accounts for only 2 percent of California's economy, it consumes 80 percent of the state's water, according to the Public Policy Institute of California, a nonpartisan think tank.
The Democratic Governor also emphasized how much agriculture has already been hurt by the state's drought.
"The farmers have fallowed hundreds of thousands of acres of land," Brown told ABC's Martha Raddatz. "They're pulling up vines and trees. Farm workers who are very low end of the economic scale here are out of work. There are people in agriculture areas that are really suffering."
Brown said shutting water allocations off would displace hundreds of thousands of people.
"If you don't want to produce any food and import it from some other place, of course you could do that," he said. "But that would displace hundreds of thousands of people and I don't think it's needed."
Despite his defense of the state's powerful agricultural industry, the governor sent a shot across the bow of many California farms with so-called "senior water rights" – those farms that received their permits before the current system came into place in 1914, allowing them to buy water at a fraction of the cost everyone else pays.
Brown called that system "archaic" and said it may be examined if the drought continued.
"Some people have a right to more water than others. That's historic. That's built into the legal framework of California," he said. "If things continue at this level, that's probably going to be examined, but as it is, we do live with a somewhat archaic water law situation."
The governor emphasized the severity of his measures and said their impact would test the state's ability to work together. He added that his executive order should serve as a wake-up call for Californians given that voluntary measures failed last year.
"This executive order is done under emergency power and it has the force of law. It's very unusual and it's requiring action and changes in behavior from the Oregon border all the way to the Mexican border," he said. "It will really test California's ability to work as a state."
ABC's "This Week" is broadcast every Sunday morning on AM 1450 KVML from 11 AM through Noon.
The "Newsmaker of the Day" is heard every weekday morning on AM 1450 KVML at 6:45, 7:45 and 8:45 AM.