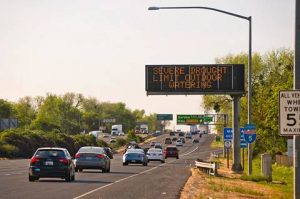 Caltrans electronic signs

View Photos
Sacramento, CA— Caltrans oversees landscaping that stretches the size of 22,600 football fields across the state and now it wants the public to keep an eye out to help it save water.
Through emergency funding from the California Transportation Commission, crews are installing smart sprinklers on state property. Caltrans says the devices, which automatically adjust to weather conditions, soil moisture or broken pipes, have reduced water use 50% where already installed.
Caltrans spokesperson Vanessa Wiseman says the department is also asking motorists to "Be A Water Watcher."  "If, while on a state highway they happen to see any water waste, let's say a broken sprinkler, they can let us know by going to our website and reporting it."
Additionally, with a captive audience on the state highways, Caltrans will also be using its more than 700 electronic signs to post "Severe Drought: Limit Outdoor Watering" to remind Californians to save water.
Caltrans goal is to reduce its water use by 50%.  It has already reduced its use by 30% according to Caltrans officials by implementing this list of actions:
Invested $47 million in Caltrans emergency funding to upgrade or repair 1,250 irrigation systems statewide—approximately 25 percent of the state's system—including smart sprinklers that cut water use at least 50 percent by automatically adjusting water usage based on weather conditions, soil moisture or broken pipes.
Postponed 34 landscaping projects, which include 26 projects that would have gotten underway this year.
Invested $8 million in four major water recycling projects in San Luis Obispo, Shasta and San Diego.
Canceled any turf or grass watering, including all state rest stops, unless recycled water is used.