Mother Lode Drought Recovery Data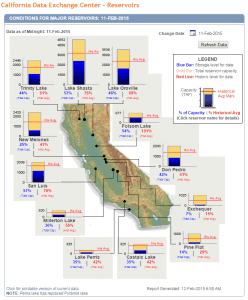 CA Reservoir Levels, as of Feb 12, 2015

View Photos
Sacramento, CA –In a just-released set of Drought Monitor visuals for Northern California and the Central Sierra Region, which includes Tuolumne and Calaveras counties, the National Weather Service (NWS) shows how far the Mother Lode has to go to fully recover.
The NWS data indicates that in addition to an average water-year rainfall of almost 41 inches, the Central Sierra region would need to receive about another 51 inches to make up the deficits of the past three years. So far, in the current water-year (which began Oct. 1, 2014), the Mother Lode has received almost 13 inches in precipitation and would need about another 79 inches by the end of September. With the October-through-April "wet" season more than half over, prospects remain dim for making much of a dent in the current drought conditions.
According to other current NWS data, northern California liquid precipitation from last weekend's storms ranged from three to 15 inches, with the highest accumulations centered over the mountains of northwestern and north-central California. Rainfall ranged from three to 10 inches in the northern half of the Sierra Nevada, but due to high snowfall levels, which were above 8,000 feet, the storms did not improve the snowpack conditions.
While NWS data indicates a "one-category" improvement in the Extreme Drought (D3) areas of northwestern California, Santa Cruz Mountains and northern half of the central coastal Santa Lucia Range, the Sierra Nevada Range remains unchanged with snowpack conditions that continue to measure well below normal. Statewide, snow levels, while ahead of last year's, are still 27 percent of normal with no significant snowpack below 7,000 feet.
The recent rains have generated a "short-term improvement" in the levels of the major Northern California reservoirs. However, as most are still reading below their long-term averages, NWS indicates that it will require many more storms like last weekend's to fill them. Currently, New Melones Reservoir, at 25 percent of its capacity, is at 41 percent of its historical average; Don Pedro Reservoir, at 42 percent of its capacity, is at 61 percent of its historical average. For a slideshow of related visuals, click on the image box, at top left.