Former Yosemite Ranger New Conservancy Head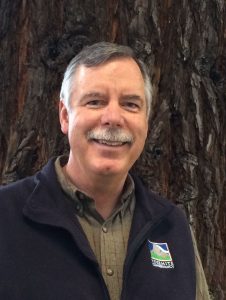 Frank Dean, Yosemite Conservancy's New President, beginning in March, 2015creditYosemiteConservancy

View Photos
San Francisco, CA – Today, the Yosemite Conservancy named a National Park Service veteran and former Yosemite Park ranger as its new president and CEO.
Frank Dean, who is retiring from the National Park Service later this month, is now winding up a six-year stint as as superintendent of the Golden Gate National Recreation Area. He also held several top-level positions in Yosemite National Park, Point Reyes National Seashore and Saratoga National Historical Park during his park service career. While a ranger and management assistant in the park between 1990 and 1995, his responsibilities included working as a primary contact with Yosemite Conservancy.
Dean's experience and passion for Yosemite naturally weighed large in the conservancy's hiring decision. "His effectiveness with the National Park Service, park partners and nonprofit donor organizations, and familiarity…made him an ideal choice to build upon the positive momentum generated over the years to provide support to Yosemite," explains Philip L. Pillsbury, Jr., Yosemite Conservancy board chair.
"My positive experiences working with nonprofit park partners excited me about this new opportunity," says Dean, who plans to assume his role at the conservancy's helm in early March. "My primary goal will be to set a course for continued success of the organization's mission to preserve and protect Yosemite and enhance the visitor experience."
Mike Tollefson, who held the position for the past six years served as Yosemite National Park superintendent for the six years before that. The conservancy credits his tenure with increasing its donor base by 60 percent, growing annual support to Yosemite from $5.8 million in 2009 to $10.5 million last year, and raising nearly $20 million for the Mariposa Grove restoration project.