Agencies On Board To Re-designate Hwy 49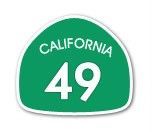 Hwy 49

View Photos
Sonora, CA – Local agencies are backing Caltrans efforts to make Highway 49 part of the National Highway System in 2015.
According to Tuolumne County Transportation Council Executive Director Darin Grossi, since May of last year, the Board of Supervisors, Transportation Council and Sonora City Council have been on board in support of the initiative, for Highway 49 to be reclassified from a state to federal highway. It all boils down to funding, as Grossi explains: "The idea originated within Caltrans as a way to increase the prioritization of funding to Highway 49. Federal gas taxes can be used on anything from a secondary highway on up, but they are prioritized for the National Highway System."
Grossi hopes that the Highway 49 status change will be part of the new Transportation Bill expected to pass sometime in May, barring any extensions.
When asked what, if any impacts the new designation might bring, Grossi states, "We don't expect to have profound changes to the way the highway is treated from our standpoint, the local standpoint, but within the Caltrans world that does the maintenance of all our state highway systems, it will get a higher priority for funding."
He adds, "The challenge, at this point, is getting Congress to pass a funding bill. There [are] many ideas on what should be in the Transportation Bill…they need to reach consensus on and of course, get the President's approval on that bill."
In June of last year, the Calaveras County Board of Supervisors also voted to support Caltrans efforts on behalf of re-designating Highway 49 as a national highway.