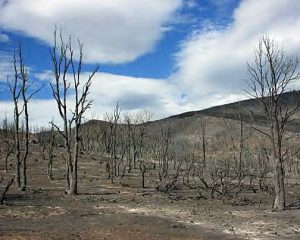 Rim Fire burned trees

View Photos
Sonora, CA — The Stanislaus National Forest is continuing to work on the plan for reforestation of the Rim Fire burn area.
Trees will likely be replanted on around 40,000 acres. The Forest Service held an initial open house this week to hear the opinions of the public.
"They (Forest Service) are after an aggressive program, and are going to follow-up all this timber salvage that we've been doing, with reforestation, and that means getting trees back in the ground," says Mike Albrecht, Chair of the Yosemite Stanislaus Solutions Group. "I think in general, our community is very supportive of that, and I know the YSS group, and industry groups, are supportive of that belief."
The approach to the Rim Fire reforestation will likely be different than some past fires.
"I know the Forest Service is trying to get away from just having timber plantations where trees are spaced quite tightly, and they are doing some different things," adds Albrecht. "They are going to try to group the trees in some areas in clusters, and some areas in more open spaces. There are opportunities to try a lot of different things out there, because the landscape is so vast. We're anxious to see what they come up with, and we just want to see it get started."
The reforestation plan is still in the development stages, and will be fine-tuned, and likely be signed and become official, in 2016.