Oak Valley Bank Plan Approved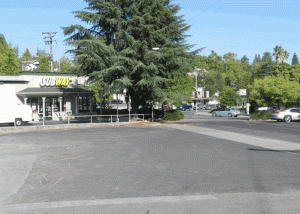 Oak Valley Community Bank Proposed Site

View Photos
Sonora, CA — The Sonora Planning Commission has okayed plans for Oak Valley Community Bank to build a new branch office.
Last night the commission voted 5-0 to approve the site plan and design review for the proposed 4,000 square ft. building at 85 Mono Way. It is the former Wright's Tire site.
City of Sonora Community Development Director Rachelle Kellogg says the bank will still need to submit a landscape plan to the Parks and Beautification Committee, but other than that, they are free to come in and take out a building permit to begin construction.
Last week, Oak Valley Community Bank President Chris Courtney stated the new location still needs regulatory approval. If everything goes as planned, they will open the second branch around next March. They plan to keep open the existing branch in East Sonora.
Oak Valley Community Bank is based in Oakdale, and has several locations throughout the Central Valley.