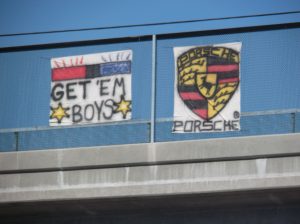 Signs were placed on Highway 108

View Photos
A man who led Tuolumne County law enforcement officials on two separate chases, in his silver Porsche, has been arrested.
40-year-old Tracy McCarroll was found sleeping in his vehicle Wednesday, and when a Sheriff's deputy approached to conduct a safety check, McCarroll took off in the car. He had a warrant out for his arrest. He was able to evade law enforcement and the pursuit was terminated.
On Thursday a CHP Officer spotted McCarroll's Porsche traveling westbound on Mono Way. At that point, law enforcement did not know his identity, because the car had paper dealer plates. McCarroll turned onto Soulsbyville Road, nearly hit some people when he accelerated through a gas station parking area, and then turned back towards Highway 108. Going up towards Twain Harte on Highway 108, he reportedly reached speeds around 90 mph.
The CHP eventually lost sight of McCarroll on Hunts Road, so the pursuit was cancelled.
At this point detectives had a good physical description, and were able to later determine it was McCarroll, who resides in Modesto. With help from the Modesto CHP, officers staked out at his residence late yesterday afternoon, and he was arrested upon arriving home in the Porsche.
McCarroll had reportedly been visiting friends in Tuolumne County.
(The photo shows a sign placed up on Highway 108, near Washington Street, after word got out that someone had eluded law enforcement twice.)