Governor's Task Force Hears From Mother Lode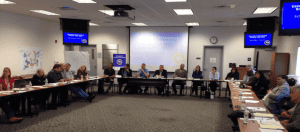 Governor's Drought Task Force Meeting In Sonora

View Photos
Sonora, CA — Governor Jerry Brown's Drought Task Force held a meeting in Sonora today to hear what is being done to get through the dry year.
Representatives were on hand from several counties, including Tuolumne, Calaveras, Inyo, Mono, El Dorado, San Joaquin, Amador and Alpine. There was also talk about long-term planning, and trying to ensure that the problems faced in 2014 do not resurface in future drought years.
After the meeting, The Drought Task Force Executive Director, Mark Gilarducci, said, "We need to plan for the worst, and we need to consider that if we don't have a wet winter, where are we going to be in 2015 and 2016. We need to look at, and deal with, what we are doing today. But, also plan for what we could be facing in the next couple of years."
Tuolumne County Board of Supervisors Chairman Evan Royce called the meeting "productive." He added, "Long-term infrastructure needs have to be addressed, and it was good having the ear of a lot of the representatives from the Governor's Office today. We're conserving over 50% in this community. That's the canary in the coalmine, and it shows we need to make some long-term changes."
Royce said he was also pleased to hear discussion about the overall health and management of the forest, and how it ties into water.
Today's meeting at Striker Court in Sonora was closed to the public. Around 40 people were on hand. This afternoon the group is also taking a tour of the Matelot Reservoir expansion near Columbia.