Drought Creates Boating Hazards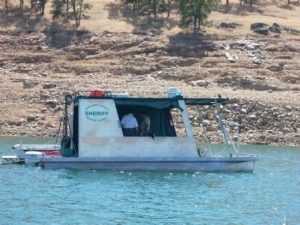 Boat Patrol At Don Pedro

View Photos
Sonora, CA — Several boats were out on Mother Lode lakes on Independence Day, and the trend is expected to continue through the weekend.
"Be aware that the lakes are much lower now than they have been in years, so there's more hazards out there as far as trees and rocks sticking up in the lakes," says Sgt. Eric Erhardt, of the Tuolumne County Sheriff's Office Boating Enforcement Division. "Unfortunately it's the larger portions of the tree, so you're not hitting branches now, but you're starting to hit stumps. The hazards have gone up significantly."
Sgt. Erhardt says the Sheriff's Office wants to make sure everyone's having a good time, but also staying safe. He also reminds boaters that everyone on board needs to have a proper life vest, and children 12 and under must wear one at all times.