Yosemite Popular During Independence Day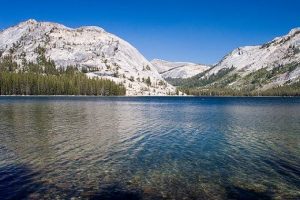 Tenaya Lake At Yosemite National Park

View Photos
Yosemite, CA — Several thousand vehicles are expected to pass through the Yosemite National Park gates over the next couple of days.
The park receives about 4 million visitors annually, and 55% arrived during the summer months. Park officials report that the Independence Day and Memorial Day holidays are among the busiest times. The Park has put out the following recommendations and reminders for anyone heading to the park.
 No fireworks are allowed in Yosemite National Park.  Fireworks disturb wildlife and greatly increase the risk of wildfire.
 Be careful with campfires. The fire danger is extremely high due to the drought. Visitors are asked to avoid campfires unless absolutely necessary, especially in the backcountry.
 Cigarette butts can cause fires – don't litter. Several fires have been started by discarded cigarette butts – always place them in appropriate trash receptacles.
 Watch out for heat related injuries. The temperature is predicted to be in the mid 90's in Yosemite Valley. Drink plenty of liquids, avoid activity in middle of the day, and do not overexert. Watch for the signs of heat stress and do not leave pets or small children unattended in vehicles.
 If you want to camp, arrive early.  Most Yosemite Valley campgrounds are filled via the reservation permit system during the summer.  There are, however, a very limited number of first-come, first-served campsites available throughout the park. Arrive early if you would like to get campsite in these locations.
 All trails within Yosemite are open.  During the busy summer season, hikers are urged to pick trails outside of Yosemite Valley and explore lesser known parts of the park.
 Drive Slowly – When in the park visitors are urged to drive slowly as animals are active and may be present on the roadway.
Additional suggestions for a successful Yosemite trip include:
 Arrive before 10:00 a.m. Most vehicle congestion occurs during the middle of the day. If you can't arrive early, try after 4 p.m. when traffic has subsided.
 Take YARTS! – YARTS picks up passengers at multiple locations along Highway 140 (from Merced) and along Highway 120 (from Sonora and Mammoth Lakes).  YARTS buses provide multiple drop-off locations throughout the park and in Yosemite Valley.
 Visit the Yosemite Region – There is a lot to explore. Groveland, Mariposa, Mono County, and Oakhurst all provide great lodging and visitor services that augment the Yosemite Regional experience. Yosemite National Park Rangers join visitor bureau staff in these gateway communities to answer questions and provide advice and latest roadway information for Yosemite bound visitors.
 Explore lesser known areas of Yosemite – Yosemite National Park is a big park with a lot to offer.  Consider visiting other areas outside of Yosemite Valley that are just as beautiful.  Visitors can explore such areas as Hetch Hetchy, Tuolumne Grove, Merced Grove, Tuolumne Meadows, and Wawona.