Holiday Week Traffic Alerts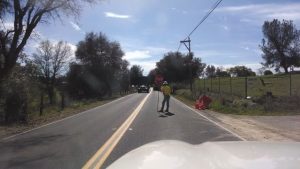 Road Work Photo taken by: Paul Shinn

View Photos
In Tuolumne County, crews will be doing tree work on Highway 120 in Groveland.  On Monday, June 30, flaggers will be directing one-way traffic control on Highway 120 from Merrell Road to Ponderosa Lane and on Tuesday, July 1, from Ponderosa Lane to Ferretti Road.  The work will be done from 9 am until 3 pm both days. Motorists can expect five-minute delays. Click here for a map.
In Calaveras County, paving work will be done on Highway 26 from Paloma Road to Highway 88 in Amador County. Crews will be working Monday, June 30 thru Wednesday, July 2 from 6 a.m. to 6 p.m. each day. Motorists can expect 20-minute delays in this area. Click here for a map.
In addition, Highway 4 will be shut down for the Arnold Independence Day Parade. The closure will run from Country Club Drive to Upper Moran Road on Saturday, July 5, from 9:00 a.m. until 12:00 p.m. Caltrans says motorists should expect 10-minute delays when using an alternate route. Click here for a map.